Date / Time
Date(s) - Saturday 29 May 2021 to Sunday 31 October 2021
9 h 00 - 17 h 00
Opening hours
Categories
Import in
+ ICal + Google Agenda
This new exhibition is a tribute to 140 years of cultural celebrations
From May 29 to October 31, 2021, the upcoming exhibition featured at Musée de Tahiti et des Îles – Te Fare Manaha will focus on cultural festivities. Dance, music, songs, sports and fiber arts will be explored. This event highlights the variety of our collections, from dance costumes, ethnographic objects, to photographs and paintings.
" Du Tiurai au Heiva ", translated as  "from Tiurai to Heiva" refers to the July (Tiurai in Tahitian) celebrations, a cornerstone of Tahitian cultural life. If they tend to appear permanent and unchanged, they witnessed both the apparition and disappearance of activities during their existence.
Tiurai celebrations have in fact already been disrupted in the past. On rare occasions, related to global conflicts or natural disasters, they could not take place.
Highlighting the various changes encountered by these cultural celebrations, this exhibition also stands as a great opportunity for the Musée de Tahiti et des Îles – Te Fare Manaha to display a panorama of its collections. The selection comprises dance costumes – from the 1950s and a series presented at the Heiva I Tahiti over the years, posters from the 1960s, reproductions of photographs extending from the 1880s to the 1960s, fiber hats, one of the last racing va'a – canoe, as well as paintings from renown Adriaan Herman Gouwe, Alfred Le Moine, Bobby Holcomb, François Ravello and André Marere. Over a hundred objects will thus be exhibited.
A series of workshops (in French) will also be scheduled between June 12, 2021 and August 21, 2021, and guided tours hosted by members of our scientific team.
The written content of the exhibition will be both in Tahitian and French. A recorded audio tour in English will also be available, bring your headphones please.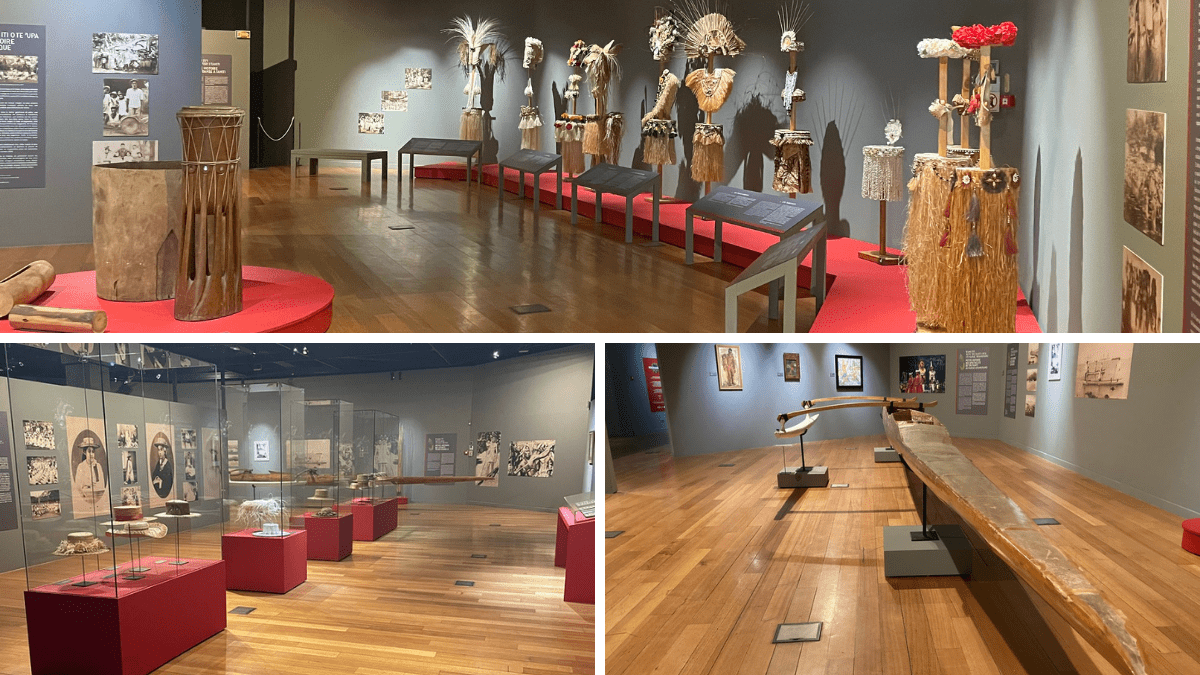 Guided tours*:
The following Saturdays, June 12 and 26, July 10 and 24, August 14 and 28, September 11 and 25, October 9 and 23 (from 10:00am).
*1 200 xpf per adults and 600 xpf for under 18. 
Workshops for children and adults (in French)**:
– Fiber plaiting workshops – nī'au : adults only (10 people max.), June 12 and June 26, July 10 and 31, August 21 (from 9:30am to 11h30am).
– Cultural workshops hosted by the cultural center 'Arioi: adults and children (15 people max.). Tools and nape (sennit) plaiting, July 17 and 24 (from 9:30am to 11h30am).
**2 500 Fcfp per person.